American Stick Flags - per gross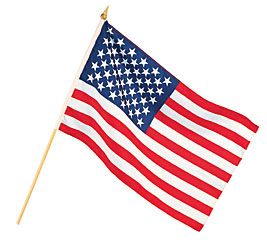 American Stick Flags - per gross
**QUANTITY DISCOUNTS FOR LARGE ORDERS** Please call for discount pricing! We can meet or beat pricing!

These stick flags are most popular for decorating veteran's graves on Memorial Day. They are also the traditional hand-held flag for parades and other patriotic festive affairs. Flags are printed in brilliant, fast colors on soft, extra heavy cotton sheeting material which is hemmed on all four sides and securely stapled to smooth-sanded white wood staffs with gilt spearheads.

Proudly Made in the U.S.A.

Reviews